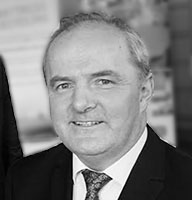 JJ O'Connell, Director PLATO FAMILY BUSINESS
Director of one of Ireland's leading IFC's (Institute for Collaboration) for over 20 years, and in that time have been most fortunate to build-up a high value network of trusted advisors. Have a particular like and empathy with owner-managers and entrepreneurs. Core expertise is in Business Planning, Family Business & Succession, Group Facilitation, B2B Networking, Strategy and General Business Management. Many years of devising and implementing practical solutions to business challenges. Expertise has been developed through advising on thousands of issues. Access to and work with a great team of experienced and expert managers across the private and public sectors.
Specialties: Facilitation, collaboration and business network specialist. Tactical planning. Succession, Legacy and Transference Strategies. Family Business Environment.
Sinead McCarthy, Project Engagement Manager
Experienced people manager/team leader who enjoys keeping teams & individuals motivated, energised and focused on delivering team and organisational objectives.
Passionate about people engagement and development with a keen interest in coaching methodology to assist people maximise their potential both personally & professionally.
Practical, people orientated individual who adapts easily to change.
Proven track record in successful delivery of small to large scale projects on-time & within budget. Experience gained in lean problem solving, process mapping, distribution/shipping, customer service, operations planning & management and building strong business/customer/executive relationships.
Organisations: GSK; EMC; DePuy, Johnson & Johnson; Telecom NZ